Liquid Gallbladder Remedy
---
Absorption: Liquids vs. Pills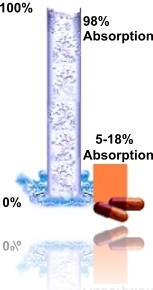 When deciding what is going to be the best natural supplement, medicine or remedy to buy, the question often arises – should one go with Liquids or Pills? There have been many studies done, and the resounding answer is that the benefits of liquid far outweigh a pill-based products. One of the most referred to statements is found in the Physician's Desk Reference on page 1542. In this widely used medical reference book, it is noted that liquids can be absorbed up to 98%. Where as it states the absorption rate of pills and capsules is 5% - 18%. This means that 80-95% of the ingredients contained in pills are excreted or eliminated from the body, which in itself can be very difficult on one's system. When this is translated into monetary terms, for every $100 spent on pills, approximately $90 ends up being flushed down the toilet. In contrast, liquid forms of the same supplement have a potential absorption rate of up to 98%.

The Benefits of Liquids:
Liquid absorption rate can be up to 98%

Liquids can be absorbed up to 5 times faster than pills

Liquids are prepared utilizing fresh elements

Fewer doses required to receive the same amount absorbed into the body

Liquids are far simpler to swallow, particularly for seniors

Liquid ingredients are not compressed, which would require additional digestion by the human body before being assimilated in the body


Liquids are quickly absorbed by the body, resulting in faster (desired) effects

Unlike pills, liquids are not powdered – this means that liquids do not require any sort of buffers, binders or fillers, which would cause an additional delay in digestion – in other words, taking more time to enter the bloodstream

Liquids do not "clog" sewers, cesspools, or septic systems – up to 98% of liquids can be absorbed, while only 10% of pills are typically absorbed, leaving roughly 90% of pills ending up in our waste system.
Pills:
Pills are hard to swallow. 25% of the population cannot take pills


The absorption rate of pills is, at best, 18%

The digestion rate for pills takes (literally) hours, with a minimal effect

Pill ingredients can end up being powdered as long as one year after being collected or harvested

Powdered pill ingredients are compressed into pills using buffers, binders and fillers; these binders and fillers require additional digestion by the body to either break down the capsules or the ingredients

Buffers, binders and fillers affect the bioavailability, which can reduce the absorption rate and effectiveness of the ingredient(s)
Complete Natural Products 100% Satisfaction Guarantee
At Complete Natural Products, we truly believe that our liquid products can offer faster, more effective results. That is why we offer a 100% Satisfaction Guarantee.
Do the Math
With an absorption rate that can be 9 times better than pills and potentially a 5 times quicker rate to be used by the body, isn't Gallbladder Complete, the only liquid formula for gallbladder pain and dissolving gallstones that you would want to use? Our reviews prove the success of Gallbladder Complete. (See Reviews)
*While the results and success to eliminate pain, dissolve and/or pass gallstones, sludge or debris have been typical for those who have placed testimonials on our website, the results for all individuals may not be typical. Side effects can result from the use of Gallbladder Complete in a small number of individuals. Please consult Side Effects.

There are many factors that play in to one's health. Among those factors that play a role are genetics, exercise, diet, injuries, and other related issues that may be beyond the function and scope of our products. For this reason, it is always best to consult with a doctor concerning your particular health issues to determine your particular and individual needs and your ability to use with success the products and solutions we provide.
Privacy Policy Disclaimer Policy